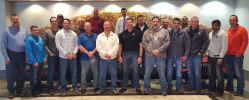 2016 Bailey Method Training
Benefits
---
The Illinois Asphalt Pavement Association (IAPA) represents the finest collection of contractors, suppliers, associates and consulting engineers engaged in the design, production and construction of Illinois's high quality asphalt pavements. IAPA promotes the use of Hot Mix Asphalt (HMA) and Warm Mix Asphalt (WMA) through publications, conferences, on-site visits and technical training events. The members of IAPA represent the association and the asphalt industry through their commitment to excellence in construction practices and ethics. Whether you are a HMA producer, equipment manufacturer, contractor, industry supplier or consulting engineer, IAPA can help maximize your company's business in the HMA industry. From the members of the Illinois Asphalt Pavement Association, thank you for your interest.
Following are some additional reasons to join IAPA!
Leadership
The members of IAPA form a strong coalition in promoting the use of HMA/WMA. IAPA is the voice for the asphalt industry in Illinois on specifications, production and quality control of HMA/WMA pavements on the state, county, and city level as well as informing the traveling public.
Asphalt Industry Liaison
IAPA meets with the Illinois Department of Transportation, Illinois Tollway, Illinois County Engineers, the American Public Works Association members, and consulting engineers to represent the asphalt industry and present new methods, specifications, and technologies to these entities and further promote the use of quality HMA/WMA.
Technology and Innovation
IAPA acts as a clearing house for the latest national / international technologies and innovations in the asphalt industry. IAPA presents these advancements in seminars, conferences, and webinars throughout the year.
Education
IAPA staff and members are committed to educating design engineers and the traveling public about the advantages of Hot Mix Asphalt including: safety, speed of construction, smoothness, quiet ride, sustainability, and the strong environmental benefits.
Annual Convention
This two day event, held in March each year, focuses upon technical and political issues impacting the HMA/WMA industry. Conference attendees range from HMA/WMA industry representatives (including owners, management, QC Managers, technicians, estimators, project managers, foremen, and superintendents), government agency staff, and consulting engineers.
Networking
IAPA also provides its Members an opportunity to network with colleagues and share information on issues affecting the HMA industry across the state as well as around the country. In addition, IAPA members are encouraged to do business with other IAPA members.
Directory
The IAPA directory provides contact information for key staff in member companies. The directory allows reputable industry vendors to contact the major firms doing business in the public infrastructure arena. Also, all members are encouraged to support and patronize fellow IAPA members when in the market for goods and services.
Events and Committees
Employees of IAPA member companies can develop leadership / team-building skills through committee participation, as well as keeping abreast of new information and techniques in the asphalt industry.