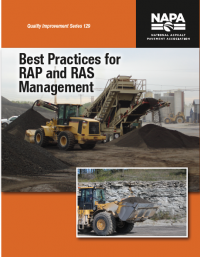 NAPA QIS 129
Best Practices for RAP and RAS Management
NAPA Special Report 200
Black and Green: Sustainable Asphalt, Now and Tomorrow
Asphalt Pavement Alliance
Carbon Footprint 
Asphalt Pavement Alliance
The Role of Asphalt in Livable Communities
Asphalt Pavement Alliance
Cleaner Water with Asphalt Pavements

Sustainable
---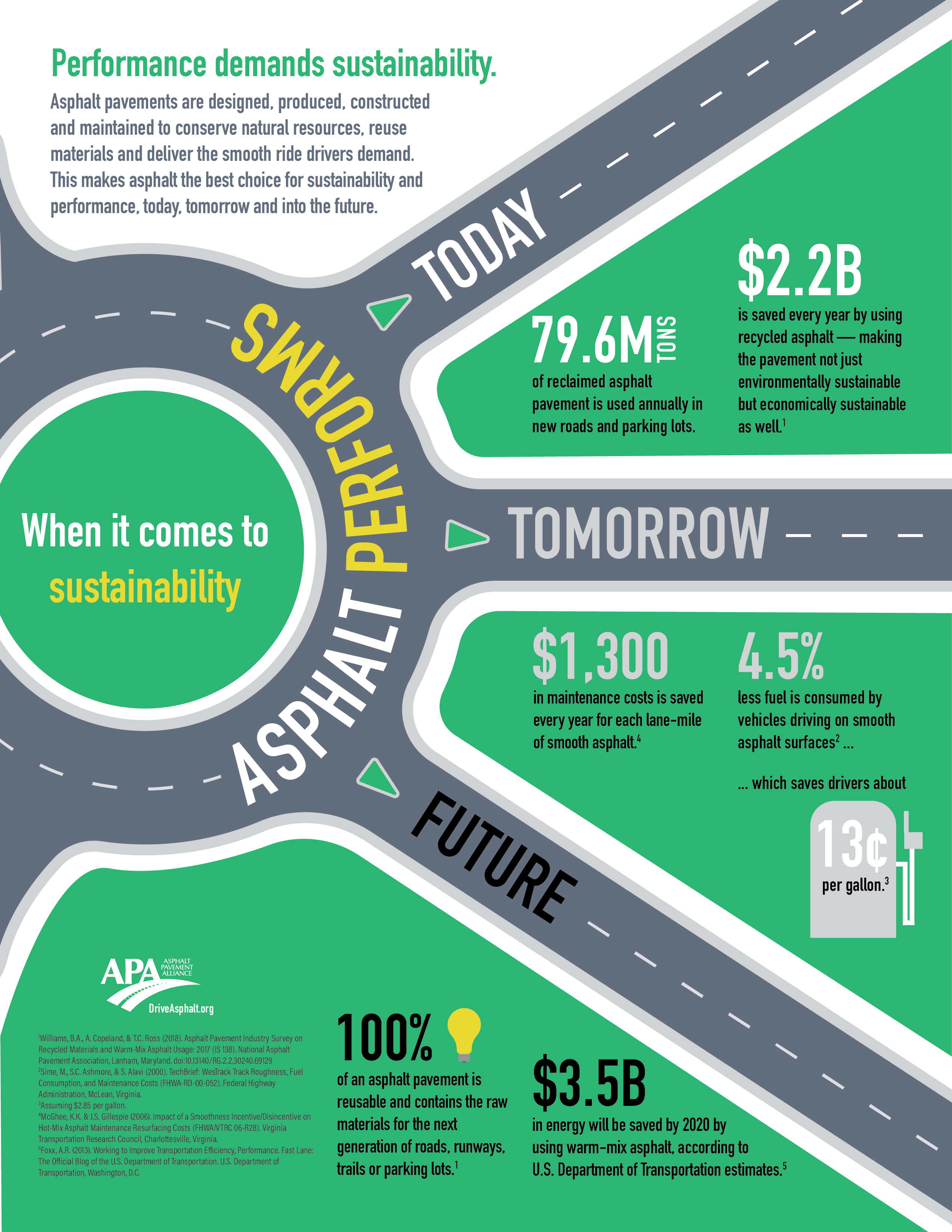 Asphalt is the pavement of choice for sustainability. It's 100 percent reusable and recycled at a higher rate than any other material in America — including soda cans and newspaper. In fact, more than 99 percent of asphalt reclaimed from old roads and parking lots goes back into new pavements.
In addition, asphalt pavements are able to use waste and byproducts from other industries — reducing environmental impacts. Instead of going to landfills, materials such as rubber from used tires, glass, asphalt roofing shingles, plastics, and blast furnace slag can all be put to use in asphalt pavements. Over 2.8 million tons of these materials were used in asphalt mixtures in 2013.
Asphalt pavements require less energy to produce than other paving materials, and its production emits fewer greenhouse gases than concrete pavement. In fact, the asphalt binder used to make asphalt pavements is a result of fossil fuels that were never burned and put to energy uses, such as diesel fuel or gasoline. Thus, the inherent CO2 is never released into the atmosphere. According to the U.S. Environmental Protection Agency (EPA), 99.6 percent of the carbon in asphalt binder is stored instead of contributing to greenhouse gases. Not only are asphalt pavements a very effective means of sequestering carbon, but the production of liquid asphalt from the heaviest fraction of a barrel of oil is also much less energy-intensive than trying to convert it to fuel for energy use.
Beyond these benefits, full-depth porous asphalt pavements can be an important tool for stormwater management and have even shown to help filter water to keep pollutants out of the environment. The use of an open-graded friction course atop a dense-graded asphalt pavement has helped to filter water running off a roadway, reducing water pollution.

For more information - www.asphaltroads.org/why-asphalt/environment/.